Recycling Facts: 5 Things we've Never Even Though Of
Recycling has become the catch all phrase often used in place of the 3 R's. But in its truest form recycling means taking one thing and changing it, usually chemically, into another. This is not to say that recycling is without value; it is certainly better than putting the items in the bin where they will end up in landfills and leach chemicals into our ground water. It is tough to say that before you place anything in the recycle bag, first consider if you could reduce or re-use it, because everything that ends up in the recycling bag will have to be altered before it can be used again. Even then it is cleaner to produce goods from recyclables than from raw materials.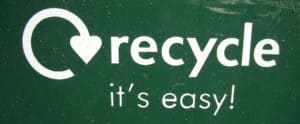 Here are just a few reasons to make certain that after you have reduced the amount of waste your create and re-used as many things as possible that your family puts as many things as possible into the recycling bins:
Fun Facts
Recycling one aluminum can saves enough energy to run a TV for three hours — or the equivalent of a half a gallon of gasoline.
One ton (2000 pounds) of recycled paper can save approximately 17 trees, 380 gallons of oil, 3 cubic yards of landfill space, 4000 kilowatts of energy, and 7000 gallons of water. This represents a 64% energy savings, a 58% water savings, and 60 pounds less of air pollution!
Those 17 trees we've mentioned above can absorb a total of 250 pounds of carbon dioxide from the air each year. Burning that same ton of paper would create 1500 pounds of carbon dioxide.
Recycling plastic saves twice as much of energy as burning it in an incinerator.
The energy saved from one recycled glass bottle can run a 100-watt light bulb for four hours. It also causes 20% less air pollution and 50% less water pollution than when a new bottle is made from raw materials.
A modern glass bottle would take 4000 years or more to decompose — and even longer if it's in the landfill.
My Neighborhood Program
Today is actually a great day to talk about recycling. Each Thursday the council sends around men to collect our recyclables. The council gives us re-usable sacks, which we can use to collect all paper, cardboard, tin cans, aluminum, glass bottles and jars and plastic bottles. Unfortunately, they do not cover recycling for other plastics. As I have been writing this series of blogs there has been one thing that I have been especially mindful of: how much plastic packaging manufacturer's use that cannot be recycled and that it is estimated takes over 500 years to decompose in landfills.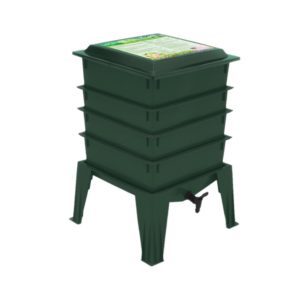 But it is not just our plastics, glass, metals and paper that we recycle. Thanks to a wonderful program through our council, last year we were able to purchase a subsidized Wormery to recycle our food waste into compost and liquid fertilizer for growing our own food.
Actually, even though we may think that food thrown into the bin will degrade relatively quickly in the landfills, the biggest problem is the amount of methane, a dangerous green house gas, which it produces in that time. Methane is twenty times more potent than carbon dioxide and a major contribute to climate change.
While my Wormery cannot accommodate meat products I put all peels and unused fruits and vegetables into it. I should soon be harvesting my first patch of compost…just in time for my summer garden.
Family and Recycling
So how does my family do on recycling? Not too bad honestly. This week we had two bags of recyclables and will only have two half full 13 gallon bin bags of other rubbish. Actually wife and I got into a minor disagreement over the trash last night. One of the first rules of the 3R's is to only throw out your garbage when the bag is full. In our case though, it had begun to smell. I am still looking for a solution…if anyone has ideas they would be greatly appreciated. But for a family of three adults and one pre-scholar two large bags of recycling and one full 13 gallon bin bag in a week is pretty good I think. I imagine that there are single people, who put more than one bag in the bin each week.
Terri O'Neal is the mother of six; ranging in age from 3 to 22. She has been both a working and stay-at-home mother at various times in her life. She was also a single mother for almost five years, before re-marrying the love of her life at the age of forty. Obviously, she has a life-time of training in raising a family on a tight budget. In addition to these real life experiences, she possesses a Bachelor's Degree in health education and a minored in Environmental Management in her master's program.
Terri feels strongly that this is one of the most challenging times in history for the family, but she also believes that families with the will and resolve to address the pressing issues of saving money, becoming greener, leading healthier lifestyles and spending more time with one another can endure these challenging times and come out victorious in the end.