You might be wondering what in the world is a garbage disposal air switch and how does this thing work or most importantly why is it important to install one.
This switch is a convenient way to turn your garbage disposal on or off.
This tiny unit uses air pressure instead of electricity to start your disposal.
This reduces the potential of an electric shock when your hands are wet.
The air switch is kind of like a push button like on modern day cars but this button can be mounted on the counter top or your kitchen sink, making it easier to turn your garbage disposal on/off.
It is obviously more convenient than those electrical switches that are mounted underneath the sink or on the wall.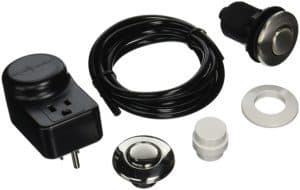 What Are The Advantages Of A Garbage Disposal Air Switch?
This is a more convenient way to operate your waste disposal unit. Comparing to electrical switches you might to get under the sink counter to switch the garbage disposal on.
Instead of using electricity, air switches uses air to operate your garbage disposal, thus reducing potential electrical shock when your hand is wet when turning the disposer on or off.
Air switches works with any garbage disposal unit.
How to Install a Garbage Disposal Air Switch
What you will need:
A drill
Plastic nut (Included when purchasing the Air Switch)
Power Module (Included when purchasing the Air Switch)
Air Switch
Carefully drill a hole in the preferred location where you want to mount your push button.
Connect one end of the air tubing to the bottom of the switch. Insert the switch through the drilled hole and tighten it with the plastic nut from beneath the countertop.
Cut the required length of tubing. Now connect the other end of the tubing to the power module.
Now insert the power supply cable for the power module unit into the wall outlet.
Insert the garbage disposal power cord into the control unit.
Ensure that everything is done properly before turning on the main power supply. To test your newly installed garbage disposal air switch push the button once to turn on the disposal. To switch it off just push it again.
If you are still unsure on choosing the best garbage disposal than, you might want to read our Garbage Disposal Buying Guide.
Conclusion
These garbage disposal air switches are either sold separately or come as complete air switch kit. There are also various colors options to choose from to match your existing kitchen sink design. These includes but not limited to: Polished Chrome, Antique Copper, Biscuit, and Polished Brass. We highly recommend InSinkErator STS-SO Single Outlet Sink Top Switch of its popularity and good reviews over at Amazon.